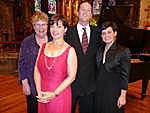 Soprano Sarah Tannehill Anderson wrote about the trio's recent premiere performance of En la memoria, Yda Garcia Lence by Jean Belmont Ford.
So what could possibly top off such a decadent and emotional experience? What could possibly reward us further?
Elena's del cielo tres dulce de leche con madre delicias bars. This is my title for them. Who knew that when I was singing "Salve, madre, delicias, del cielo", it would actually mean, "Oh, I'm salivating, oh mother of mary, delicious, heavenly! This is only the correct translation when biting into these amazing treats.
I had mine for breakfast this morning. Here's the recipe…
Chocolate Dulce de Leche Bars
(from the late Gourmet magazine)
For Shortbread crust:
1 stick butter, softened
1/3 c. packed light brown sugar
½ tsp. vanilla extract
½ tsp. salt
1 c. all-purpose flour
For Chocolate Dulce de Leche
1 c. heavy cream
1 c. dulce de leche (homemade* or from a can – look in the Latin section of the grocery)
4 large egg yolks
5 oz. 60%-cacao finely chopped bittersweet chocolate (try a food processor)
Make Shortbread Crust: Preheat oven to 375 degrees with rack in the middle. Butter a shallow 9-inch square pan, line with a parchment paper sling, and butter parchment (I used cooking spray). Blend all shortbread ingredients together until a dough forms (I sued a mixer). Press into pan evenly, and prick all over with a fork. Bake until golden, about 15-20 minutes. Cool completely on rack.
Make Chocolate Dulce de Leche: Bring cream and dulce de leche to a simmer in a small heavy saucepan, stirring with a wooden spoon until dulce de leche dissolves. Whisk yolks together in a bowl. Slowly whisk in hot cream mixture. Return mixture to pan and cook over medium heat, stirring constantly until pan is visible in tracks of spoon. Remove pan from heat and stir in chopped chocolate until melted.
Pour chocolate mixture over cooled shortbread and chill, uncovered, until cold and set, about 2 hours.
*Homemade is truly awesome, but the old-fashioned way involves boiling the uncovered can in a pot of water. Modern thinking discourages this, but it is really, really good.