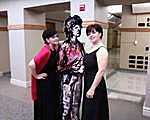 Thomas Wolfe wrote "You can't go home again," but this week Sarah Tannehill Anderson proved him wrong. The LAT performed in Jefferson City, Sarah's hometown, as part of the Jefferson City Concert Association series. Within sight of the Missouri statehouse, the Miller Performing Arts Center was Sarah's 7th grade home, way back when. We drove up to the building (lovely, by the way) to see her name scrolling across the marquee. Dan and I had to be content with "Sarah Tannehill Anderson and the Lyric Arts Trio." Yup, she was the man that night.
How fun for her to sing for her mom, sister, family and high school friends. After we ended the concert with a flat-out great "Tonight" from West Side Story, we got a standing ovation. Yup, she was the man.
(A note on the snapshot: do you like Dan's new look?)
And to share with the wonderful Jeff City folks (and nibble on the trip home)…
Salty Oat Cookies
(from Cook's Illustrated)
1 c. flour
½ tsp. baking soda
¼ tsp. salt
2 sticks unsalted butter, softened
1 c. sugar
¼ c. packed light brown sugar
1 large egg
1 tsp. vanilla
3 ½ c. old-fashioned rolled oats
½ tsp. coarse sea salt for sprinkling (do not use kosher salt, it will melt)
Preheat oven to 375 degrees. Line two baking sheets with liners or parchment paper. Whisk together flour, salt and baking soda in a medium bowl. In a large bowl, beat butter and sugars with an electric mixer on medium speed until light and fluffy (about 3-6 minutes). Beat in egg and vanilla until combined. Reduce the speed to low and beat in the flour mixture until combined. Add oats.
Working with 2 Tbl. of dough at a time, roll dough into balls and place on baking sheets. Flatten slightly (to about ¾" thick) and sprinkle with a few grains of sea salt. Bake until edges of cookies are set and beginning to brown, but centers are still soft and puffy, 15-17 minutes. You want to bake them just right so they are still chewy-goodness in the middle when cool. Let the cookies on the sheets about 10 minutes and then remove to a wire cooling rack. Yield: about 2 dozen, if you don't eat any dough and just lick the bowl.