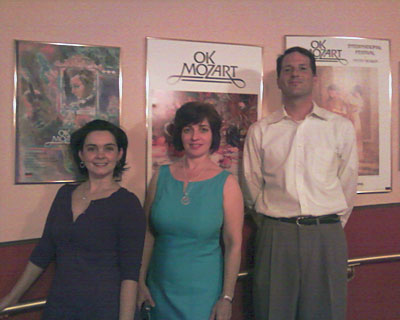 Saturday, June 19 the trio bopped down to Bartlesville, OK to perform a showcase concert at the OK Mozart festival. This week-long festival featured performers from David Shifrin to Bela Fleck. We performed for about 2 hours (wow), with a break in the middle, for our longest concert ever. Yes, we played Mozart ("L'amero" and "Schon lacht der holde Fruhling"), but also did lots of selections from the American program we will tour next season.
We have pondered what would happen if Wyoming got in on the act and had a WY Mozart festival.
Of greater interest is the cookie du jour. I bake a batch of cookies for each of our road trips. Butter and sugar make the miles fly by faster. The OK Mozart featured selection was "Brewer's Blondies" from the cookbook from the Baked bakery in New York.
Brewer's Blondies
2 1/3 cups flour
1 1/2 tsp. baking powder
1 tsp. salt
2 tablespoons malted milk powder
14 tablespoons unsalted butter, softened
1 3/4 cups packed dark brown sugar
2 large eggs
2 tsp. vanilla extract
3/4 cup malted milk balls, chopped coarsely
3/4 cup (9 oz). semisweet chocolate chips
3/4 toasted walnuts, chopped (I left this out)
Preheat oven to 350 degrees. Butter the bottom and sides of a 9×13 inch pan. Whisk the flour, baking powder, salt and malted milk powder together. In a large bowl beat together the butter and brown sugar until completely combined (I use my faithful KitchenAid stand mixer). Scrape down the bowl, and add the eggs and vanilla and beat until combined.
Add the flour mixture in 2 batches and beat until just combined. Add rest of ingredients and beat only about 10 seconds. Mixture is thick. Spread in prepared pan and bake 25 – 30 minutes or until a toothpick inserted into the center comes out clean.
Eat a few warm to ensure quality control. Save the rest for the trip. Give Dan lots and lots. If consuming at home, these are even better served warm atop ice cream.