The Lyric Arts Trio presents classical music with a fresh approach. Concerts are crafted around a central theme, and have a diverting balance of solos, duos and trios for clarinet, soprano voice and piano. The programs feature informal commentary about the music by the performers. (All programs can be customized, and other programs are available.)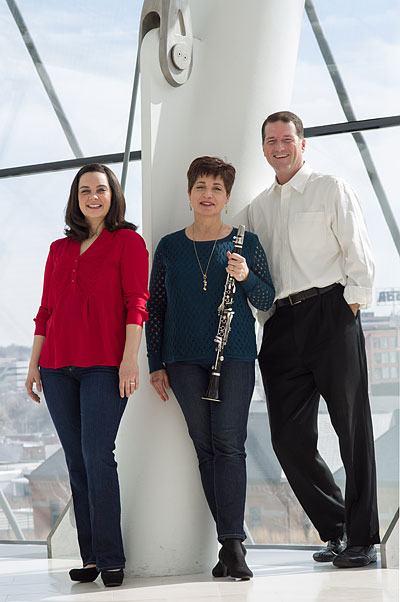 Brahms and Friends (New!)
Johannes Brahms is one of the Big Three "B" composers of classical music (alongside Bach and Beethoven). The Lyric Arts Trio newest program is a delightful concert of outstanding chamber music of Brahms and his friends and colleagues. The ensemble will perform new custom arrangements of lovely lieder of Clara Schumann, Gustav Jenner (Brahms' only pupil), and Antonín Dvořák, as well as a selection from one of Brahms' justly-famous clarinet sonatas and the beloved piano Intermezzo in A, op. 118, No. 2. The concert closes with a sparkling trio arrangement of Johann Strauss Jr.'s "Voices of Spring" Waltz.

Hooray for Havana!
In Cuba they say, "Echale Salsita!" which means, "Throw a little seasoning on it!" And that's exactly what we do when we step back in time with this music from the classic Cuban song era. Think tropical nightclubs, pre-Castro Cuba, tangy mojitos, and Ernesto Lecuona's "Malaguena" as we perform lively favorites that include "Anadalucia" and "Tico, Tico,"

Of Love and Remembrance
A program especially appropriate for All Saints or All Souls Day, these selections bring to mind happy memories of the past that bring a measure of comfort and peace to those left behind. Works include "Cantar de los Cantares," a setting of the Old Testament's "Song of Songs" by Ian Krouse, and poems by Rudyard Kipling, Alfred Lord Tennyson and Daisy Zamora, set to music by area composers Ian David Coleman, Jean Belmont Ford and Charles Hoag.

Remembering the Great War
World War I (1914 – 1918) centennial commemorations have already begun, and our concert features gorgeous music composed during the war years, as well as settings of poems by some of the Great War's most noted poets. Highlights include:
Ravel's Tombeau de Couperin (Ravel dedicated each movement to a fallen comrade)
George Butterworth's "Bredon Hill" (Butterworth was killed at the Battle of the Somme)
Exclusive new setting of Wilfred Owen's poem "The Soldier's Dream" by Robert Pherigo (Owen was killed just weeks before the war ended in 1918)
Our exclusive new arrangement of "In Flander's Field," the inspiration for the red poppies worn to honor fallen soldiers.

A Little Light Music
This "pops" program is a charming mix of folk songs, American popular songs from several eras and light-hearted melodies you will whistle as you leave the concert.

Glad Tidings
A warm and wonderful holiday concert, featuring Canadian carols, the ever-popular "Gesu bambino" and Brahms' lovely cradle song for the Christ Child.

Worship Through Song
A lovely concert of sacred texts from the Psalms, Song of Solomon, William Blake and others by composers Schubert, Ferdinando Paer, Arnold Cooke, Jean Belmont Ford and others.

Music of the Americas
Our "Music of the Americas" program is a resounding success! This colorful and vivacious program highlights US, Canadian and Latin American composers, from Kansas' own Forrest Pierce to George Gershwin to Carlos Guastavino of Argentina. Audiences have embraced it enthusiastically, especially our new arrangements of Cuban Ernesto Lecuona. Listen to some performance excerpts and see why we smile every time we play this concert.

Old World Gems
Imagine the best of Old Europe, and this lyrical and charming concert will take you there with elegant selections from England, Vienna, France, Germany and beyond. Composers include Vaughan Williams (England), Gottfried Herrmann (Germany) and W.A. Mozart (Austria), among others.

American Voices
A program that celebrates American poets and composers, from Emily Dickinson to Stephen Foster to Aaron Copland. Includes a LAT commission of a setting of a poem by Kansan Gordon Parks, an outstanding African-American photographer/filmmaker/poet. Ad Astra, a special version of this program, was created to highlight the experience of the Kansas pioneer settlers.

Hearts and Flowers
Celebrating the beauty of love and the delights of nature, this romantic program features Schubert's famous "Shepherd on the Rock," Gordon Jacob's supremely tuneful Four Seasonal Songs and works of Debussy and Mozart, among others.

A Shakespeare Festival
One of the most popular of all of our programs. This features selections from Leonard Bernstein's West Side Story (a modern re-telling of Romeo and Juliet), a lush song cycle by Erich Korngold, and the LAT's own Three Shakespeare Sonnets by Beverly McLarry (LAT commission).

Great Poets
Great music married to the works of great poets. Features settings of poems of Robert Frost, William Blake, Emily Dickinson and James Joyce.